Learning shouldn't end with school, it should last a lifetime.
Posting date:
25 Aug 2023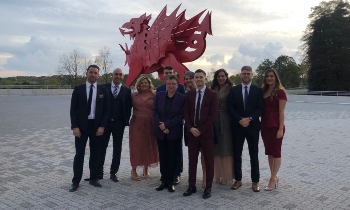 I'm a passionate advocate of life-long learning. Often when someone leaves school or university, they assume that learning is over and done with, but that should not be the case. My role in the Learning and Development team at Legal & General Investment Management gives me the opportunity to make sure people can appreciate the importance of learning throughout their lives.
In my own experience, since leaving university I have gained five financial services qualifications, four customer service qualifications, a degree in Leadership and Management, and a degree in Learning and Development – all whilst working full-time at Legal & General. In my role, I get to be a part of ensuring our people have access to those learning and development opportunities which will enable them to achieve their ambitions, whether it's a promotion, earning a qualification, or building the career they've always dreamed of. It's really exciting to be able to bring people back to learning and see the impact in their lives in such a tangible way.
I've worked at Legal & General for my entire career – almost twenty years. It's surprising to say it like that, but it goes to show just how much I enjoy what I do. I've had a few different roles since I first joined in 2001, but I've been with the Learning and Development team now for 15 years. In my current role, I manage a team of around ten people and I look after the professional and personal development of 700 colleagues in Customer and Client Operations, from induction right the way through to progression. This team services over 3.9 million customers helping them save for their futures. We have various diverse roles, from Customer Service through to Business Improvement and Finance Operations.
Our team's strategy is to help our people achieve, aspire and grow, which I think sums up our approach and attitude. I'm also part of the Learning and Development Forum, where managers across all divisions at Legal & General join and share best practice. It's a really collaborative environment to work in, which is an important part of what I value about my job.
This collaborative spirit extends beyond our company and into the way we interact with our clients, customers and communities. In Cardiff, we've been working with a local school, Pen-y-Dre High School, for at least ten years. Our team has been key in driving forward this partnership. We run programmes to help students aged 15 and 16 who aren't continuing in traditional education. We focus on helping them into employment, with support on how to search for jobs or write CVs. We also run revision technique sessions for students going into their GCSEs. To support with training our own teams who work with vulnerable customers, we partner with Hijinx Theatre in Cardiff. Their actors, who are all neurodivergent, run training workshops for our teams.
More recently, we have been working out how we can adapt to the challenges of Covid-19. It was difficult figuring out how to provide the same offering we always had in such different circumstances. I never thought we would be delivering inductions virtually or training our colleagues in any way other than face-to-face, but my team have really risen to the challenge, and have shown great creativity and innovation in adapting material. Within the first couple of weeks of lockdown we had set up virtual classrooms using Teams, and developed an on-demand learning platform where people could access materials remotely. I'm really proud of the team.
Our reaction over the past few months really illustrates what I love about Legal & General, and what's kept me here for almost two decades: The culture. I think we have a very honest, curious culture where people are encouraged to challenge each other, and be creative so we can provide the best experience for our colleagues, clients and customers. There's also a complete absence of blame culture, which I think is one of the reasons people feel so open and able to discuss ideas. I've found that people feel completely comfortable putting their hands up if they've made a mistake, and I've made plenty over the years but learnt from each one!
I truly believe having a supportive and open culture goes hand in hand with good learning and development. Speaking from my own experience, Legal & General has provided me with amazing opportunities with regards to my professional development. The investment in helping me gain my qualifications has been fantastic - just incredibly encouraging. It sounds cheesy to say it, but it really does feel like a family.
Learning doesn't have to stop with school or university, it can – and should – last a lifetime!

View all
Head of Health & Safety, Real Assets Equity
Business Unit
Legal & General Investment Management
Job Family
Property Investment Management
Permanent/Fixed Term Contract
Description
This role is based in our Real Assets Equity (RAE) team, who are one of the UK's largest real estate managers with c£25 billion under management.What you'll be doingActing as the 'competent person' fo
Reference
1f3d92c7-1c47-4ab7-8662-d5579770f225

Apply now
Add to shortlist
Cloud Risk Manager
Business Unit
Legal & General Group Functions
Permanent/Fixed Term Contract
Description
The role will focus on ensuring that Cloud Controls are operating across the Group in a consistent and appropriate manner and will support Governance changes related to the onboarding of workloads on
Reference
4711e392-e7ff-4076-a91b-97e5e15a42b2

Apply now
Add to shortlist
Sourcing Specialist (Technology)
Business Unit
Legal & General Group Functions
Permanent/Fixed Term Contract
Description
Your role at a glanceWould you like the opportunity to join an emerging Procurement Team in a FTSE 100 business?Due to an exciting transformation across our Procurement function, we are pleased to ann
Reference
0d813d7d-6e4f-436a-b2f4-b32fc69c9d16

Apply now
Add to shortlist
View all