How a culture that encourages volunteering makes for a great place to work
Posting date:
25 Aug 2023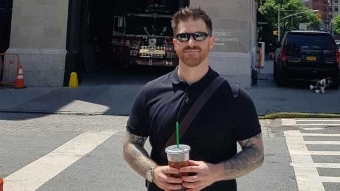 My mother has always been involved in volunteering, and I learnt from a young age the value of being able to help others in their time of need. I've tried to carry that lesson with me in whatever I do, whether personally or professionally. I've had a varied career, from film studies to financial services to personal training and now back to financial services again. But looking back, it's clear to me that there is one common thread that ties it all together- wanting to help people.
Now, my work at Legal & General allows me to do the same. I've been in transformation for coming up to three years now as part of the ever-evolving change team. I've done a variety of roles but have also worked on Corporate Social Responsibility (CSR) on the side, which is something I have always enjoyed. Recently, there was the opportunity to split my time between my current division and the group CSR team, which is what I do now. The fact that Legal & General is allowing me to do this really shows the emphasis the company places on CSR and helping people more generally. Being the size it is, there is an obvious duty for Legal & General to act in a socially and ethically responsible way, but people throughout the organisation also genuinely believe it's the right thing to do. That's what drives them.
A good example of how ingrained helping people is in the culture is our work with the Royal Voluntary Service. The Royal Voluntary Service is a national charity that supports people in NHS hospitals and communities. One the activities they support is the provision of food and drink to staff, patients and their visitors with a trolley service. We decided to fundraise for a new trolley Royal Sussex Hospital in Brighton, and to dedicate our time in taking the trolley around the wards too.
We started going in every Friday from January 2019, with almost 60 volunteers last year, including the CEOs from Legal & General Retail Retirement (LGRR) and Legal & General Retirement, Institutional (LGRI). We saw a really warm welcome, particularly from the staff who don't often get the time to sit and have a break. For the patients, it's more about the interactions and being there to have a chat. Some of them don't have visitors so the time we spend with them can mean a lot.
At the start of the year, with everything going on, it stopped being safe for us to go into the hospitals physically. They also usually run a lot of social activities for the older demographic, which were also no longer possible. Due to the government restrictions, there were a lot of people who were suddenly having to self-isolate and lost their social activities. Loneliness and the impacts on mental health became a real concern, particularly for the elderly.
This concern led us to pilot a 'befriending programme', where Legal & General volunteers would work with organisations such as the Royal Voluntary Service to befriend someone vulnerable or lonely over the phone. It started with just ten of us in our division, but now we've rolled it out across Legal & General more widely and so far, we have 70 people trained and matched up with individuals, and another 30 either going through the training or matching processes. We're now working with three charities and in total, we've done almost a thousand hours' worth of support for people. The programme has been a great success, and has now been rolled out across our divisions. If there's one silver lining of this pandemic, it is that people have realised they want to get more involved in worthwhile causes. Over the past few months, there's definitely been an increase in community spirit and a drive to do more as an organisation.
I've worked in financial services for over ten years and Legal & General is the first company that has actively encouraged me to get more involved in this space. Of course there are other opportunities elsewhere if you go and look for them but Legal & General has made it exceptionally easy to get as involved as I'd like to be. As my passion for this work grew, the company helped me explore opportunities to get more involved. Ultimately, it's this culture and attitude that makes me feel like I've found the place where I'm meant to be, and what makes working here genuinely a pleasure.
#MyStory
#BBD0E0 »

View all
Head of Health & Safety, Real Assets Equity
Business Unit
Legal & General Investment Management
Job Family
Property Investment Management
Permanent/Fixed Term Contract
Description
This role is based in our Real Assets Equity (RAE) team, who are one of the UK's largest real estate managers with c£25 billion under management.What you'll be doingActing as the 'competent person' fo
Reference
1f3d92c7-1c47-4ab7-8662-d5579770f225

Apply now
Add to shortlist
Cloud Risk Manager
Business Unit
Legal & General Group Functions
Permanent/Fixed Term Contract
Description
The role will focus on ensuring that Cloud Controls are operating across the Group in a consistent and appropriate manner and will support Governance changes related to the onboarding of workloads on
Reference
4711e392-e7ff-4076-a91b-97e5e15a42b2

Apply now
Add to shortlist
Sourcing Specialist (Technology)
Business Unit
Legal & General Group Functions
Permanent/Fixed Term Contract
Description
Your role at a glanceWould you like the opportunity to join an emerging Procurement Team in a FTSE 100 business?Due to an exciting transformation across our Procurement function, we are pleased to ann
Reference
0d813d7d-6e4f-436a-b2f4-b32fc69c9d16

Apply now
Add to shortlist
View all