From Apprentice to Group Brand Executive: anything is possible at L&G.
Posting date:
25 Aug 2023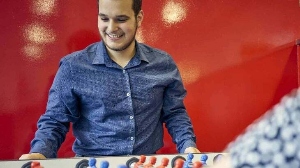 I am not sure whether, when I was younger, I would have envisaged myself in the type of role I am doing now – working for a company like L&G. My family is very working class and it's always been expected that you go to school, do your GCSEs and, after that, choose a trade which you then master. So my journey to becoming a Brand Executive has been quite unorthodox – and I would not have had it any other way.
At school I wanted to do a broad range of A-levels, so I picked Law, Biology and Geography. I did those subjects to make sure that when I left school I had as many options open to me as possible. When I started applying for jobs, I was less focused on a specific role and more on a company's purpose, its working environment and whether it provided opportunities to grow. That's why I chose L&G. I joined the company's Apprenticeship programme, assigned to our Group Brand team, and was one of L&G's first-ever apprentices. It's a role I feel I have truly been able to make my own. I've also found new ways to add value because L&G has always focused on my potential, and not just on paper qualifications.
When I started my apprenticeship two years ago, I used to have lectures once a quarter, with dedicated study time on Fridays. I have always felt fully supported by my team. Before L&G my only previous experience of working was at McDonalds. However, I have always been comfortable working with people and learning from them, so it was this, combined with the more structured learning I was offered, that enabled me to grow during my apprenticeship. When my on-the-job training came to an end, I'm delighted to say I was offered a full-time position as an Executive in the Group Brand team.
It was challenging learning on the job, especially when it came to the unspoken rules of behaviour in office environments. However, for me the most important thing was to focus on how I could support and add value to the team. I have always pushed myself to identify what needs to be done to make sure the team keeps functioning successfully, while simultaneously finding ways to challenge myself and get immersed in L&G's Brand purpose.
Every day I get to work on a variety of projects ranging from: providing in-house design support and managing our Group website, to collaborating with the L&G press team on major announcements and branding our new Cardiff offices. The key for me has always been to maintain that visibility and always find ways to help, while reminding myself that if you're thrown into the deep end in a work situation, that's when you are truly able you to challenge yourself and grow.
I am committed to my job but I also believe it is important to maintain a good work/life balance. If I'm really honest, I never thought it was possible to do this job working from home. But even before the pandemic started, my manager encouraged me to work from home at times, especially whenever it worked best for me. It was great to see how Legal & General embraces flexible working; this has without doubt given those of us who have been working from home for the past year a head start in doing so effectively.
Some of the most important things my experience at L&G has taught me are: not to worry about the future, and to always be myself. I am part of a diverse team that includes people from all walks of life – they've come here from corporates, some were in the forces, others have worked as television producers. I feel genuinely at ease being myself at L&G and learning from the people I work with in an environment that actively encourages us to learn and grow every day.

Building great teams & delivering positive outcomes.
Summary
I've been at L&G running the affordable homes business for just over 3-years now. Starting from scratch, me and my co-workers have built a business of 115 people delivering great quality affordable ho
Read more View all
Head of Health & Safety, Real Assets Equity
Business Unit
Legal & General Investment Management
Job Family
Property Investment Management
Permanent/Fixed Term Contract
Description
This role is based in our Real Assets Equity (RAE) team, who are one of the UK's largest real estate managers with c£25 billion under management.What you'll be doingActing as the 'competent person' fo
Reference
1f3d92c7-1c47-4ab7-8662-d5579770f225

Apply now
Add to shortlist
Cloud Risk Manager
Business Unit
Legal & General Group Functions
Permanent/Fixed Term Contract
Description
The role will focus on ensuring that Cloud Controls are operating across the Group in a consistent and appropriate manner and will support Governance changes related to the onboarding of workloads on
Reference
4711e392-e7ff-4076-a91b-97e5e15a42b2

Apply now
Add to shortlist
Sourcing Specialist (Technology)
Business Unit
Legal & General Group Functions
Permanent/Fixed Term Contract
Description
Your role at a glanceWould you like the opportunity to join an emerging Procurement Team in a FTSE 100 business?Due to an exciting transformation across our Procurement function, we are pleased to ann
Reference
0d813d7d-6e4f-436a-b2f4-b32fc69c9d16

Apply now
Add to shortlist
View all