From accountant to marine: L&G has helped me every step of the way.
Posting date:
25 Aug 2023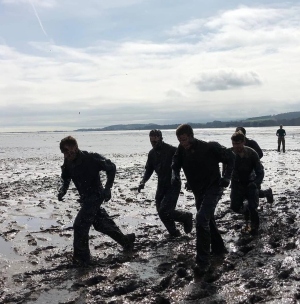 If I could describe myself in three words, I'd say 'determined, ambitious and adventurous' –although some people might say I'm crazy for wanting to join the Royal Marines and do a graduate scheme at the same time! In both my work and my personal life, I try to experience as much as possible, and am not afraid to trust a gut feeling. During my A levels, for example, I switched from English Literature to Economics halfway through the term, and then later studied Economics at York University. After graduating, I did work experience at a brokerage house, a law firm, and then shadowed someone in LGIM for a week. After a successful introduction to L&G, I decided to apply for the graduate scheme.
The L&G Graduate Scheme stood out for me because of the range of opportunities available within its rotations. It helped me build the skills and connections I needed to pursue a career in property, retirement, insurance or investment management. The opportunity to get internationally recognised qualifications was also a huge bonus; I did ACA exams, but you can do ACCA or CIMA.
I always say to people, being on the graduate scheme feels like you're doing an MSc in Finance, because you learn so much. I started in LGIM, doing business partnering, then moved to LGR to do financial control in Hove, and then moved to Group Internal Audit in London. I was surprised at how much you're encouraged to take control of your own development. My advice would be, 'Take every opportunity with both hands and ask questions', because everyone is willing to give you their time. Since finishing the grad scheme, I have taken a permanent role in the Group External Reporting team. I report to both the public and to our regulators on how business is doing. Various finance teams from all divisions will feed their numbers into our team. I help do the initial reporting of some of the Head Office companies and then help to consolidate across the Group, so we can present to external stakeholders.
In my first year, I wanted to try new things. I got more into fitness and started doing Brazilian Jiu Jitsu and kickboxing. At around the same time, I also started listening to a military podcast. A friend had started training in the Royal Marine Reserves and, although he didn't finish the course, I decided to try it. The Royal Marine Regulars do 32 weeks of full-time training, so I joined the Reserves, which allowed me to keep on working. Reserves have to fit in training after work, at weekends and they have to do week-long courses. That's in addition to maintaining your fitness on your own, so it is definitely full on!
Although it was a massive commitment, I actually found it easier to manage my time because I had to be really organised. I woke up early before work to revise for exams then, after work when my friends were deciding which pub to go to, I had to train. Weekends consisted of yomping: walking with 30-40 kilos on your back for up to eight hours – with very little sleep. You often get dunked in a river at 1am in December before sleeping (for about an hour!) outside. There are some fun parts, a particular highlight being a live firing section attack scenario, using night vision goggles, infrared flares and machine guns supporting, but it's not all like that! I remember back to the first training session – people were literally in tears. It's a humbling experience though; on a Monday morning you are just grateful to sit in a warm office with a coffee!
I feel so lucky to have been supported by L&G throughout the process. To complete my Marines training, I had to attend several courses and had to take time off. Luckily, I was able to take advantage of the ten days' unpaid leave allowance that we can take on top of our annual leave. Without this, I couldn't have done both my job and the training. I've had to explain my situation countless times to different teammates during my rotations, but everyone has been so understanding.
I am proud to work here as I believe L&G is a major force for good. I am proud to work for a company that is the best at what it does. I don't know what the next few years have in store for me, but I am grateful that L&G has been so supportive of my journey to become a Marine, alongside helping me develop my career in financial services.

View all
Head of Health & Safety, Real Assets Equity
Business Unit
Legal & General Investment Management
Job Family
Property Investment Management
Permanent/Fixed Term Contract
Description
This role is based in our Real Assets Equity (RAE) team, who are one of the UK's largest real estate managers with c£25 billion under management.What you'll be doingActing as the 'competent person' fo
Reference
1f3d92c7-1c47-4ab7-8662-d5579770f225

Apply now
Add to shortlist
Cloud Risk Manager
Business Unit
Legal & General Group Functions
Permanent/Fixed Term Contract
Description
The role will focus on ensuring that Cloud Controls are operating across the Group in a consistent and appropriate manner and will support Governance changes related to the onboarding of workloads on
Reference
4711e392-e7ff-4076-a91b-97e5e15a42b2

Apply now
Add to shortlist
Sourcing Specialist (Technology)
Business Unit
Legal & General Group Functions
Permanent/Fixed Term Contract
Description
Your role at a glanceWould you like the opportunity to join an emerging Procurement Team in a FTSE 100 business?Due to an exciting transformation across our Procurement function, we are pleased to ann
Reference
0d813d7d-6e4f-436a-b2f4-b32fc69c9d16

Apply now
Add to shortlist
View all